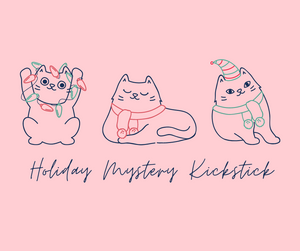 Holiday Mystery Kickstick
You've come to know and love our catnip kickstick from The Spicy Purrito. 
This Holiday season indulge in the excitement and mystery of gift giving. Our kitty elves at FCN will specially pick out a surprise Holiday themed kickstick for your furry friend.
These fun kickers will keep kitties busy and entertained! The long shape and soft fiberfill is perfect for little paws to grab onto and kick around. Individually packaged to retain maximum catnip potency. 
Materials: Cotton fabric, poly-fil fiberfill, organic catnip.
Size: 11" x 2.5" (approx.)