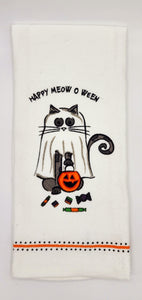 Happy Meow o Ween Dish Towel
This special edition Happy Meow o Ween Dish Towel is made with 100% cotton, perfect for tackling any kitchen task with ease. Absorbent and durable, it helps create a clean and safe environment for food preparation.
This Ghost Kitty Dish Towel is perfect for adding a spooky vibe to your kitchen this season. The 100% cotton fabric is soft to the touch and designed to last. Embrace the Halloween season with this fun and functional kitchen accessory.