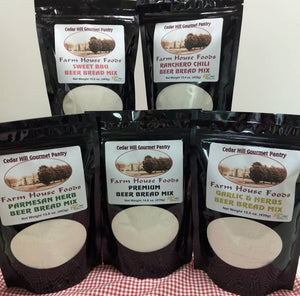 FCN Premium Garlic & Herb Beer Bread Mixes
Instructions: Preheat oven to 375 degrees F. Lightly grease a 9x5 baking pan. In a bowl, empty the contents of this package & pour in 1 1/2 cups (12oz) of beer & mix until moistened. Transfer to the prepared baking pan & level on top. Top with 2-4 TBS of melted butter. Bake approximately 45 minutes in the prepared oven until a toothpick inserted in the center comes out clean. Place on a wire rack to cool.


Notes: Most people agree that the beer you use, light vs. dark, expensive vs. cheap, does not make a noticeable difference in the taste, although some think that a dark strong beer does add flavor. You can substitute 1 1/2 cups (12oz) of seltzer water or a soda instead of beer. Add shredded cheese, diced peppers, olives, sun dried tomatoes or herbs.



Ingredients: Enriched bleached wheat flour( bleached white flour, niacin, reduced iron, thiamin monoitrate, riboflavin & folic acid), leavening (sodium aluminum phospahte, sodium bicarbonate, monocalcium phospahte), salt calcium sulfate, cane sugar, brown sugar, minced garlic, granulated onion, garlic powder, oregano, basil, thyme, rosemary, sea salt.
ALLERGENS: WHEAT


YOUR PURR-CHASE MAKES A DIFFERENCE!