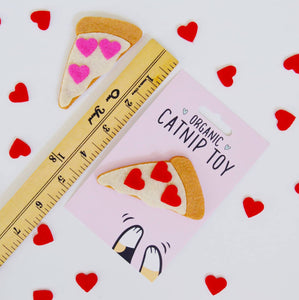 Catnip Heart Pepperoni Pizza
Give your Valentine a pizza your heart! 💖
Item measures approximately 3.75" x 2". 
Materials used include Eco felt and organic catnip.
Our catnip is homegrown and farm fresh!
ECO-FRIENDLY – made with 100% recycled materials
Small variations in products may exist as each piece is handcrafted and one-of-a-kind.
All designs and images are copyright protected and are the property of Housecat Club.