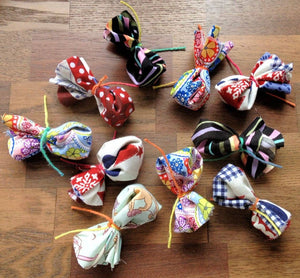 Small Organic Catnip, Cotton Fabric, Catnip Drops
Organic Catnip in Cotton Fabric Cat Toys, with cotton fabric in whimsical designs. The catnip drops you receive may be a different design with a variety of cotton fabrics. We put a tablespoon of organic catnip in center of fabric and tie fabric closed with a hemp cord.
Cats who enjoy catnip will love these toys, my cats roll around on them, lick them and carry them around like a prize. Cat tested and cat approved.