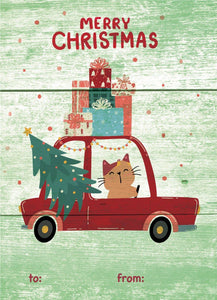 Merry Christmas Cat Favor Gift Tag and Catnip Seed Seed Pack
NEW FOR CHRISTMAS 2021! Say "Merry Christmas" with an adorable seed packet of Catnip that also doubles as a gift tag! This is a gift that any cat lover will find charming and memorable. Write your own "To:" and "From" names to complete your unique gift tag! Catnip is loved by cats everywhere! Humans can enjoy it in tea for its relaxing properties.
The pretty purple flowers attract bees too, so they are great pollinators! Plant seeds 1/4 inch deep in prepared garden bed. Thin to 18" apart when seedlings are about 4" tall. Catnip can be mildly invasive. Great for filling in out of the way areas or containers.
SEED INFORMATION:
Lifecycle: perennial
Time to Maturity: about 3 months
Sun Requirement: sun
Spacing: 18" apart
Depth: 1/4 inch
200-220 Seeds Per Packet
Bloom Season: summer
Height: n/a
Uses: edible, dried, container, indoor/outdoor, flower, pollinator
Low Maintenance : yes
Ideal Germination Temperature: 60F
Sowing Method: Direct