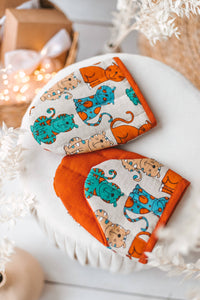 Linen Oven Mini Cooking Mitt
Handmade quilted linen cooking mitt with cute cat print. Great to protect your hands and as a kitchen decor.
Material: Linen 55% Cotton 45% * Has a loop to hang * Heat resistant padding Ideal for 'light duty use' and very effective for hot dishes. Holding a very hot dish for an extended period of time might still cause a burning feeling.