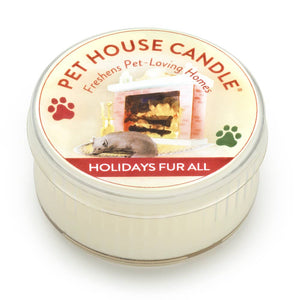 Holidays Fur All Mini Candle 1.5 oz
Holidays Fur All combines classic fragrances of the Holiday Season. There's nothing more memorable than spending time with family (both furry and non-furry) and friends by the fire place while enjoying traditional holiday favorite scents including fir needles, cinnamon, clove and nutmeg.
Get rid of odors and freshen your home with a Pet House Mini Candle from One Fur All! Designed and formulated to neutralize odors in the smaller spaces of your home, these candles are a must-have for both dog and cat owners. Using top quality fragrances, we developed over 20 different scents that will fill the room with a calming aroma that's never overwhelming! Thanks to natural soy wax and a cotton wick, our mini candles last for up to 12 hours!