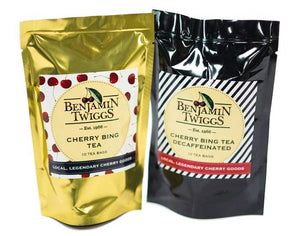 Benjamin Twiggs Cherry Bing Tea (Regular Gold Pkg )
A delightfully aromatic cherry brew. Each pouch contains 10 tea bags. We also like it iced!. Each pouch contains 10 tea bags of delicious cherry bing tea.
Founded in 1966, Benjamin Twiggs is the original purveyor of fine cherry products in northern Michigan. Throughout our history, we have remained true to our commitment of using only the finest, local ingredients. And while we are famous for "everything cherry," we are continually inspired by the bounty of our area; a land of lush rolling hills, farms and orchards bursting with cherries, raspberries, blueberries and more. Partnering with local suppliers, we work with the best the northern Michigan area has to offer to provide you, your family and friends with the most flavorful and memorable foods possible. Benjamin Twiggs is a woman owned business. Leisa Eckerle's family has been in the cherry farming business for over a 100 hundred years. Her father, son, nephew and grand nephew continue to carry on the farming tradition.