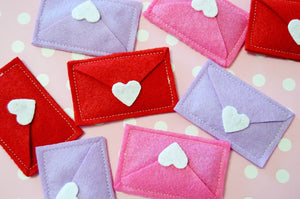 Catnip Love Note
Full of sweet nothings and pungent catnip, this kitten-sized love note is the purrfect way to show kitty you're crazy about them! 
Price is for ONE love note. 
Machine stitched for durability! 
Item measures approximately 3" x 1.75".
Materials used include Eco felt, and organic catnip.
As with all of our creations, this toy is:  VEGAN – no animal products ever  ORGANIC – our catnip is homegrown and farm fresh!  ECO-FRIENDLY – made with 100% recycled materials
Small variations in products may exist as each piece is handcrafted and one-of-a-kind. All designs and images are copyright protected and are the property of Housecat Club.