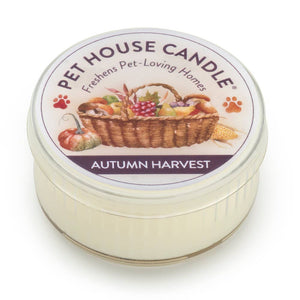 Autumn Harvest Mini Candle 1.5 oz
Autumn Harvest captures the essence of home for the fall season. A combination of cinnamon, clove, vanilla and musk create a warm spicy fragrance.
Get rid of odors and freshen your home with a Pet House Mini Candle from One Fur All! Designed and formulated to neutralize odors in the smaller spaces of your home, these candles are a must-have for both dog and cat owners. While most candles simply mask smells, our blend includes an odor neutralizer that leaves your home clean, welcoming, and undeniably fresh. Using top quality fragrances, we developed over 20 different scents that will fill the room with a calming aroma that's never overwhelming! Thanks to natural soy wax and a cotton wick, our mini candles last for up to 12 hours!